Your financial needs are continuously changing.
Count on Mackenzie Martin to help you make smart, informed decisions.
Services include:
Complimentary financial planning session
Cash flow and debt management
Investment portfolio design
Insurance for disability, life and long-term care
College and retirement funding strategies
Estate planning strategies
Business protection and succession strategies
► Download New Client Paperwork >
► To reach Mackenzie, call 503-697-0817 or email mmartin@medicalpfg.com.
► Meeting with Mackenzie martin? Please make sure to print our Directions to Medical Professionals Financial Group >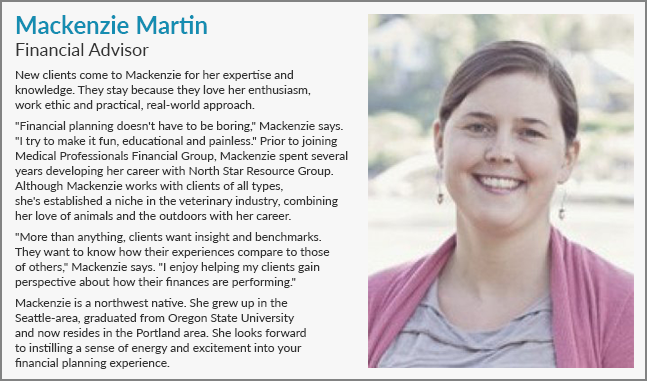 Schedule an Appointment with Mackenzie >
We are normally booked 3-4 weeks out for appointments. If you urgently need to come in, please contact our office and we will do our best to accommodate.
Phone: 503-697-0817
Fax: 503-697-1526
Email: tcaudle@prmnorthwest.com
310 N. State Street, Suite 206, Lake Oswego, OR 97034