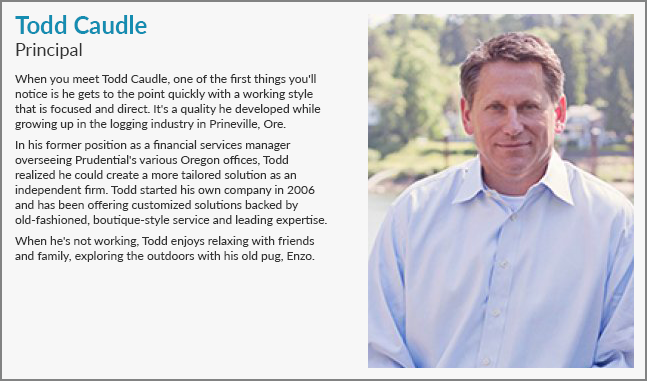 Todd Caudle and his team provide specialized, customized executive benefit design and C-Suite planning for medical and dental practice owners and their executives. Because we are independent, we have access to a wide range of insurance and financial solutions, providing you with unbiased and transparent advice. In professional firms, executives are often the most valuable asset. Talent retention and business continuity are crucial. We help firm owners achieve both these goals with a thoughtful and innovative approach.
Count on us for assistance with:
Executive benefit design
409A non-qualified deferred compensation
Key person retention strategies
Buy/sell design and funding
Premium financed insurance arrangements
Business succession planning
Practice transfer
Retirement plans
In addition to protecting your firm and its talent, we aim to help you personally grow and protect your wealth.
Financial services for individuals include:
Personal investment solutions
Asset protection strategies
Individual retirement plans
Alternative investments
Estate planning
Personal insurance strategies
If you're ready to step up to a new level of financial insight, we're ready to empower you with the knowledge, focus, financial vehicles and expertise to take your financial portfolio and your firm to the next level. Contact us today.
To reach Todd, call 503-697-0817 or email tcaudle@prmnorthwest.com.
Meeting with Todd Caudle? Please make sure to print our directions to Medical Professionals Financial Group.
Phone: 503-697-0817
Fax: 503-697-1526
Email: tcaudle@prmnorthwest.com
310 N. State Street, Suite 206, Lake Oswego, OR 97034